We are currently experiencing a larger than normal volume of phone calls.
If you are able to, we would greatly appreciate making your reservation with us online.
If you have any questions for us, please send us an email at frontdesk@morrisonslodge.com. Thank you.
LODGING
Relax in the Breathtaking Beauty of the Rogue River
Morrisons Rogue Wilderness Lodge is the epicenter for Southern Oregon outdoor recreation, located 16 miles downstream from Grants Pass along the Rogue River. We offer a variety of unique accommodations, and can house intimate or large groups — even ones up to 12 people. We have everything from riverside cabins to more secluded lodging that offers all the beauty and privacy you could imagine. You won't want to leave the embrace of the surrounding evergreen, maple and oak trees, especially as you're whisked away watching the water flow, listening to birds singing, or watching the clouds float by on a clear, sunny afternoon.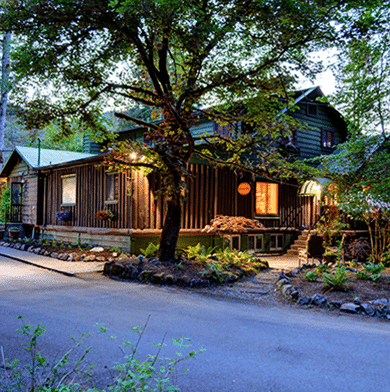 Slip away into an authentic lodge experience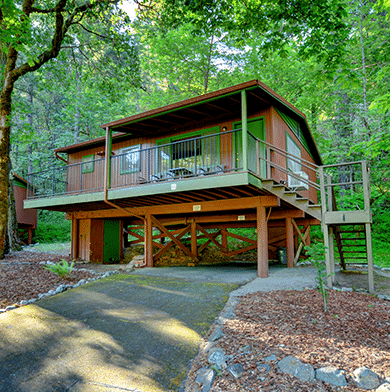 Find the right balance of seclusion & adventure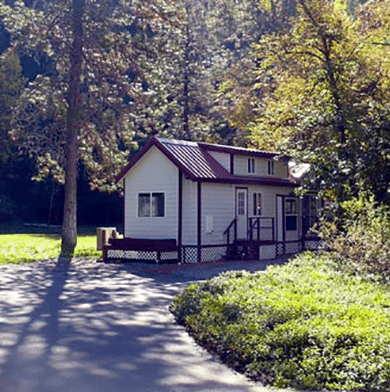 Escape into nature and find the privacy you seek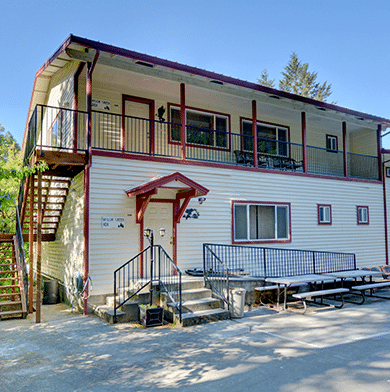 Immerse yourself in nature & relax indoors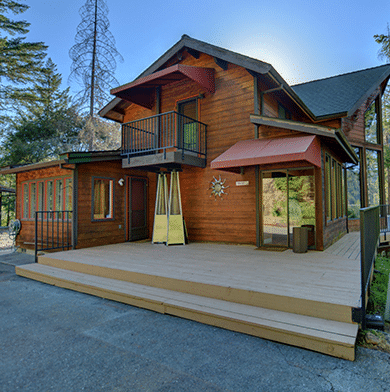 Reawaken the soul in a private, treetop sanctuary
ALL ROOM AMENITIES
Relax in the Breathtaking Beauty of the Rogue River
All Rooms Include These Amenities
Telephone (no cell service)
The Taylor Creek and Tuck Away cabins also include either kitchenettes or full kitchens.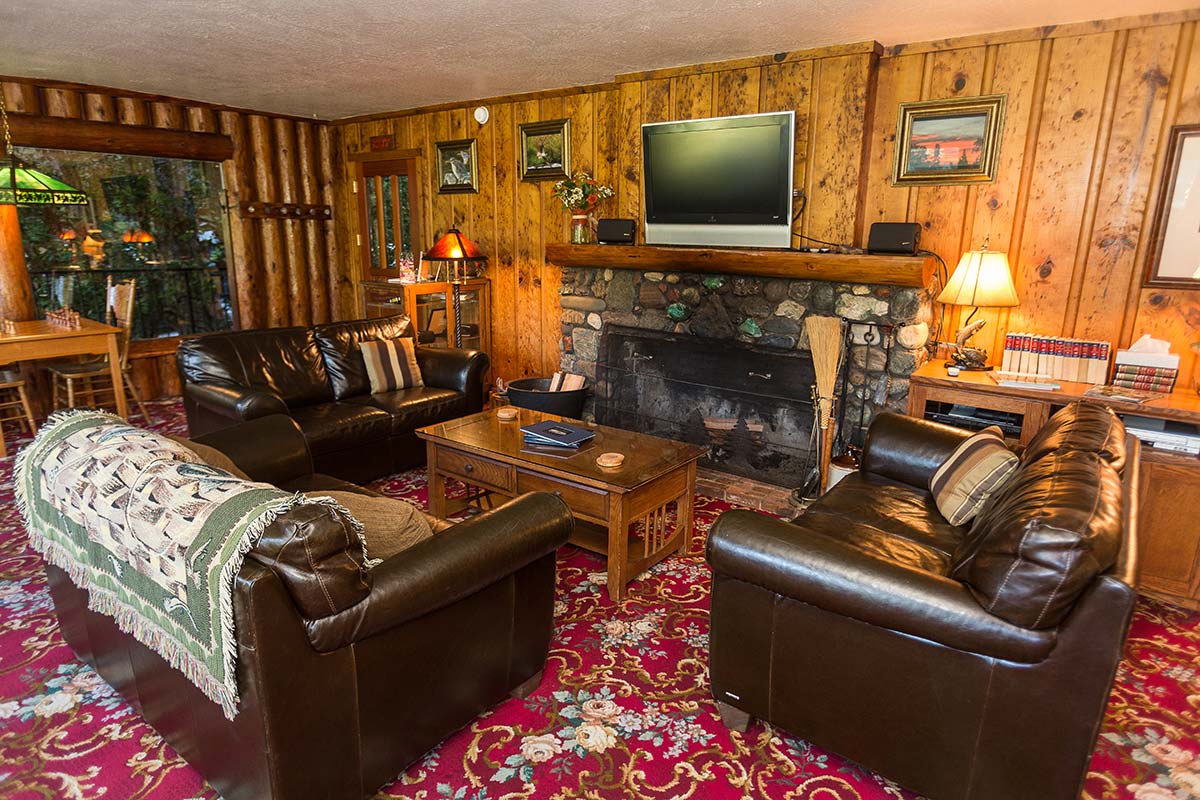 The main lodge includes the following amenities for all guests:
Great room with fireplace and river view
Shaded deck on the river
Library of books, music, and videos
General Reservation Info
Room rates vary by room, our occupancy rate, and time of the year. A 1.5% room tax applies as mandated by the State of Oregon. Meals (breakfast and dinner) are sold separately from your room. Take a look at our rotating dinner menu and breakfast options.
The Lodge is Open May 15 thru Oct 31
Spring rates: May 15th – June 23rd
Summer rates: June 24th – August 31st
Fall rates: September 1st – October 31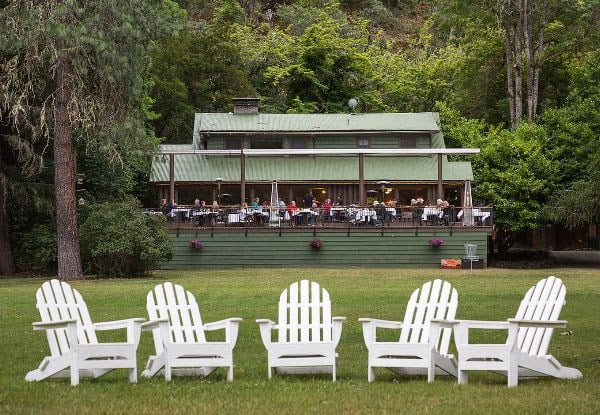 The lodge grounds include five beautiful acres of river-front lawn, ideal for walks, croquet, or football. Explore our private beach. The lodge also offers the following amenities and activities:
Basketball court
Volleyball
Tennis court
Putting green
Frisbee golf
Horseshoes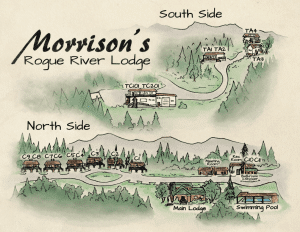 MORRISONS ROGUE RIVER LODGE
Silvana and Maya "We visited for the first time the Rogue River area and stayed in this beautiful lodge. What a perfect surrounding, right on the riverfront. Beautiful grass areas, outside/inside restaurant, and beautiful and comfortable accommodations. You can start or end a trip here if you are visiting the area, and experience all kinds of outdoor adventures from river rafting to hiking, to getting lost in the woods and etc etc. No really, as any other place, no matter how beautiful it is, it is the people that make or break the impression."
Michael, CA "We loved our two nights we stayed at the Lodge. The staff is super friendly and very accommodating. The restaurant had good food and the staff helped us customize for our kids. Right on the Rogue River, beautiful setting."
Bonnie, OR "We had the pleasure of having dinner last night at Morrisons. We have done this for the last 8 or 9 years and really look forward to it every summer. We start out with a bottle of wine in the white Adirondack chairs down by the river, eagle flying overhead. How perfect! Dinner bell rings at 6:45 and off we go to the porch where our table is set up for us. Dinner last night was pan seared halibut. They are famous for their orange dinner rolls. The food is wonderful ... the staff treats guests like family. After dinner we usually find a Morrisons t-shirt in the gift shop. Really, Morrisons is a special place ... right on the wild & scenic Rogue River ... whitewater rafting ... great lodge. We are so thankful that we live in the Rogue Valley and can treat ourselves to this great place. Come check it out, you will love it! Oh yes, they do serve meat entrees as well."
Ernie and Diane, CA "We had a super time in every way! Our guide was a very competent boatman/oarsman and a knowledgeable steelhead guide. The fishing was a bit slow but we caught great fish! Thank you!" ~Ernie and Diane, CA
Robert, CA "We appreciated our guides professionalism and the courtesy that all of the staff at Morrisons showed us while we were there. The children certainly want to come back to fish again with you. We'll see you sometime next year in the early fall for more steelhead fishing."
Tim and Chris, WA "Our guides were great! This was our first fly fishing experience and their patience was greatly appreciated. We were introduced to Morrisons at the Portland Sportsmen Show last February and the guides' easygoing personalities made all the difference in selecting Morrisons over the other lodges."