A UNIQUE DINING EXPERIENCE
You are invited to participate in the exceptional fine dining experience at the historic Morrisons Rogue River Lodge. Here you're likely to enjoy one of the best meals you've ever experienced, an all-inclusive four-course dinner from Morrisons prix fixe menu as you overlook the beautiful Rogue River.
Weather and temperature permitting, Morrisons Rogue River Lodge offers the wonderful experience of dinner out on the deck, overlooking a breathtaking view of the Rogue River. Enjoy our manicured grounds as the lawn stretches out before you down to the river's edge. You are seated at individual tables according to your party size. In the event of a rainy or cool night, you are served in the dining room or meeting room so you can still enjoy the view through the picture windows.
You have a choice between two entrees each evening, and the menu changes nightly. The chefs in Morrisons legendary kitchen prepare your meal using the freshest and best of local ingredients, including our produce, which our master gardener tends to at our state of the art fruit, vegetable, and herb farm here on the property. Morrisons offers an excellent wine list and a full-service bar. We feature some of the finest Southern Oregon wines available and a handful of exceptional varietals from the Pacific Northwest and California. You are invited to arrive early for dinner and enjoy a cocktail or a glass of wine along with the view.
Restaurant Reservations
All meals by reservation only
May – October
Breakfast – 7am
Dinner – 7pm
Breakfast Service
Hot Buffet Breakfast available every morning for all of our lodging guests.
Adults: $22 And Children: $15
Morrisons Buffet Breakfasts may include the following:
Eggs
Hashbrowns
Home Fries
Home Made Sausage
Home Made Bacon
Fresh Fruit
Yogurt
French Toast
Pancakes
Bagels
Assorted Breakfast Pastries
Beverages
Coffee
Assorted Juices
Water
Please call for reservations: 541-476-3825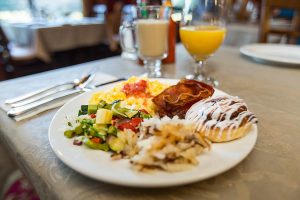 ALL MEALS REQUIRE A RESERVATION