Escape the Ordinary
Morrisons Rogue Wilderness Lodge is your outdoor recreation destination. Located in the heart of Southern Oregon, we are your launchpad into a world of adventure. Morrisons attracts adventurers of all types — anglers, river rafters, gold panners, rock hounds, swimmers, hikers, bikers, and everyone who loves to dive into an exciting new experience.
The historic lodge and individual cabins — partially eclipsed by groves of evergreen, maple and oak trees, and other beautiful greenery — are a peaceful retreat from the stresses of everyday life. Here, there are no pings from emails, voicemails or texts — just the whistling of the water and chorus of bird songs. Whether fishing, rafting, hiking or exploring, you have the luxury of walking from your lodge to the river in mere minutes. We put you in the thick of things so you can experience these amazing natural wonders.
Built in 1945
River guide and lumber mill worker Lloyd Morrison had several fishing clients who traveled from Grants Pass to the middle Rogue to fish. Mr. Morrison dreamt of building a lodge to accommodate these fishermen; however, building supplies were in short supply because of World War II. With the help of some of his San Francisco clients, Mr. Morrison secured the essentials to build his lodge in 1945. He handpicked the lumber, and the choice Bird's Eye Pine he used throughout the lodge has become more lustrous through the decades.
Mr. Morrison later added a cabin and moved two small houses onto the property. After he sold the lodge, the buildings eventually fell into a period of neglect.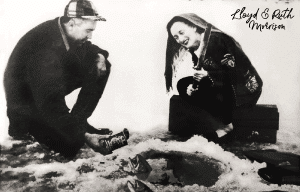 New Owners & the Flood of '64
In 1964, BA and Elaine Hanten purchased Morrisons Lodge and moved in with their three young children — Mike, Michelle and Mark. They took to guiding, cooking and transforming the lodge into a resort. However, disaster struck in December that same year, when the Rogue River flooded and wiped out the cabins. The water rose so high in the main lodge that it flowed above the fireplace mantel. Fortunately, the lodge survived this turbulent time. With the help of a disaster loan, the Hantens repaired the main lodge. They also built three new cabins on stilts. The business continued to thrive, and with its growth came additional cabins and more manicured grounds.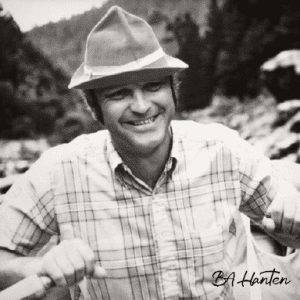 Fishing & Rafting
Steelhead fishing has been the main attraction on the Rogue for many decades. In the mid-1920s, famed Western author Zane Grey was enamored with the "half-pounders" that are unique to this region. They are tenacious fish only found on three rivers in the United States: The Eel, the Klamath and the Rogue River.
In 1968, the Rogue was designated a "Wild and Scenic" river by the federal government. At that time, Rogue River Raft Trips, Inc., which operated out of Morrisons, was one of the first to use inflatable rafts to take adventurers down the wild section of the Rogue.
Still Going Strong
For more than 70 seasons, the Hanten family has owned and operated Morrisons Rogue Wilderness Lodge. Although BA, Elaine, and Michelle are no longer with us, Michelle's son, Churchill, continues their legacy of wonderful hospitality and fabulous meals at this full-service river resort.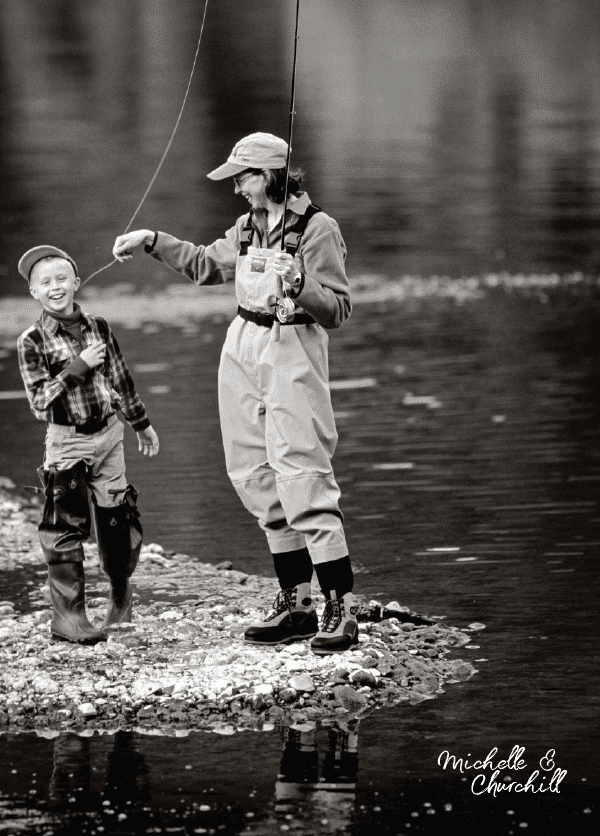 Andrew
Pratt
President
Andrew came to us as a part-time seasonal employee in the summer of 2006. A jack of all trades, throughout 8 seasons, he acted as dishwasher, server, bartender, grounds maintenance, front desk, and head day raft guide. In 2014 he was hired on as a full-time sales associate and has since served as operations manager and fishing director. As the current president of Morrisons Rogue Wilderness Adventures, Andrew leads a talented team of passionate outdoor adventurers. Whether introducing guests to their first whitewater experience as a guide or telling stories over dinner at the lodge, he loves sharing the unique atmosphere and rich history of Morrisons with our guests. Andrew is a big fan of Bigfoot and loves the mystery behind the legend, whether the tales are real or not. His greatest pride is knowing Morrisons guests have had a memorable vacation.
Churchill
Crean
General Manager
Churchill has worked with Morrisons since he was a kid, and held many different jobs over the years. He has been a dinner server at the restaurant, worked at the front desk and helped with the shuttles. For Churchill, watching the guests arrive and leave with smiles on their faces is what he loves about working at Morrisons. He likes making people happy and finds great joy in helping the guests have an unforgettable experience. From working with the other staff members to interacting with guests, he does his best to ensure they are happy and having fun on their Morrisons' adventure.
David
Blauser
CFO
David joined the Morrisons team in March 2018 as the Chief Financial Officer. A former Naval Flight Officer and current CPA, David is a true utility player. His experience in non-profit, government, and corporate sectors makes him an agile member of our crew. David appreciates the pace and energy of the staff and loves researching to find solutions to new issues.
TripAdvisor Traveler Rating

Based on 454 traveler reviews
TripAdvisor Ranking #2 of 8 things to do in Merlin
Most Recent Traveler Reviews

Dec 7, 2016:

"Great Fun Great People"

Nov 6, 2016:

"AMAZING"

Oct 17, 2016:

"4 days , 3 nights, 44 miles…"

Oct 14, 2016:

"Scenic, Comfortable Hike"

Oct 11, 2016:

"Best. Trip. Ever."
© 2017 TripAdvisor LLC